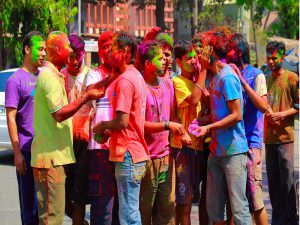 Holi, the festival of colors is round the corner and one can feel the enthusiasm and fervor. Holi is celebrated in the month of Phalgun. It starts with Holika Dahan or Chhoti Holi on Phalgun Purnima and continues till next day when Dhulendi or Badi Holi is celebrated with all kinds of color such as mud, powdered colors mixed with water and Gulal.
In Bihar, Holi is all about food, colour and fun. The festivities starts by making pakodas on the evening of Holika Dahan and offering it to bonfires, burnt to commemorate the victory of good over evil. The following day, Holi is celebrated with full excitement. Getting drenched in mud, water and color is something inevitable this day. People can be seen dancing on the bhojpuri folk songs, sound of Dholak and other Holi songs adding so much to the spirit of this festival. Some of the amazing dishes that are cooked on this day in Bihar include Malpua, Dahi vada, Poori and dehati mutton and kathal ki sabji. The evening of Holi is marked with the visit of friends and relatives applying gulal on the feet of the elders as a mark of respect while smearing the faces of younger ones, friends and peers. This festival brings a lot of positivity and colors in our lives and infuses fresh stream of energy which lasts for one whole year until next holi arrives….!!
So this year, Get drenched in colorful water and organic powdered colors and enjoy the cheer of happy crowds celebrating the triumph of good over evil. Wishing all a very Happy Holi from Team TravelBaits!!