Sonepur Mela or Harihar Kshetra Mela, one of Asia'a largest Cattle fair takes place every year in the month of Nov-Dec on the banks of River Gandak in the Saran distric of Bihar The fair is popular both among the locals as well as the tourists due to its religious and traditional significance. 
Alhough the fair is known mainly for cattle trading, there are a variety of other items that are sold at the fair. There is a common saying that at Sonepur mela, you get everything from pins to elephants.
Airport: Jai Prakash Narayan International Airport
Railway Station: Patna Junction is connected to major metropolian cities by train.
Hariharnath Temple
Sonepur Mela
Vishwa Shanti Stupa, Vaishali
Ashoka pillar
Abhishek Pushkarni
Archaeological museum
Buddha Relic Stupa,
Birthplace of Lord Mahavira 
Trip Duration: 8-9h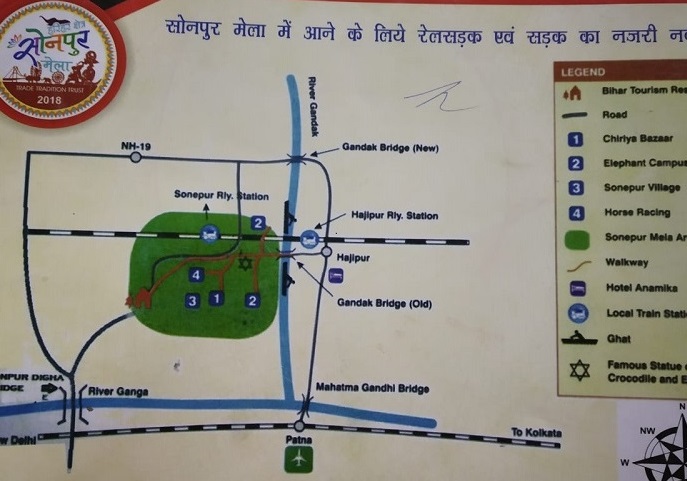 Day 1: Patna-Vaishali
Arrive at Patna Airport. Meet and greet our representative at the airport and proceed for Vaishali. Our representative will make necessary arrangements for the transfer. Visit Hariharnath temple at Sonepur followed by the Sonepur Fair. Have lunch at a good restaurant in Vaishali,. Return to Patna. Stay at the prebooked Hotel
Day 2 : Sightseeing at Vaishali
Start your day by visiting Banana plantation in Vaishali. Do a tour of Vishwa Shanti Stupa at Vaishali followed by Ashoka Pillar, Abhishek Pushkarni and the nearby attractions. Visit the place where lord Mahavira was born. Return to Patna
Price: INR 6500 onwards/-